Luke Parry abandons world rickshaw trip after reaching Germany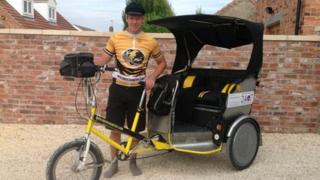 A man who planned to travel around the world on a bicycle rickshaw has decided to abandon the project after a month.
Luke Parry, 22, from Eastrington, East Yorkshire, said the trip, which he began on 10 September, had not worked out as he had envisaged.
He had planned to spend about 18 months travelling 16,000 miles (26,000km), meeting people and offering them lifts.
But reaching Germany, Mr Parry said he was not enjoying the trip as much as he expected and decided to return home.
"It hasn't worked out as I intended," he said.
"Not many people have come up and asked any questions or asked for a ride. It doesn't feel like it has been worth it.
"In the end continuing with something like this you really need to enjoy it."