East Yorkshire Council 'injustice' over abuse claim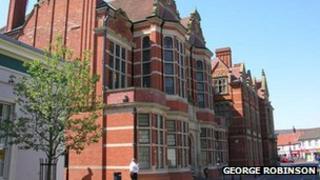 A council failed to properly protect a disabled man who alleged he had been physically and emotionally abused by his mother, a report has found.
The man, known only as Mr B, told East Yorkshire Council in 2011 he had suffered years of abuse at the hands of his mother, who was also his carer.
But he suffered an "injustice" when his claims were not properly examined, the Local Government Ombudsman has said.
The council said it was unable to comment "due to confidentiality".
'Disabled idiot'
Mr B, who is in his 40s and now lives in North Yorkshire, suffers from a neurological disorder, heart conditions and post-traumatic stress disorder.
The stress caused by the alleged abuse and the subsequent failure by the council to investigate his claims took him "to the brink", said Mr B.
"When I told them what had happened to me, I should have got the help and support there and then instead of being treated like a pariah," he said.
"They've treated me as a liar and treated me as this piece of disgusting dirt off their shoe, this disabled idiot who just doesn't understand the world and lies constantly."
Since moving away from East Yorkshire in 2011 he had suffered several heart attacks and eventually had to undergo a triple bypass operation, added Mr B.
The Local Government Ombudsman's report found East Riding of Yorkshire Council had done Mr B the "injustice" of not investigating his concerns properly.
Safeguarding procedures
The council had not followed its own safeguarding procedures and had failed to decide whether Mr B was safe after he made the abuse allegations, the report said.
The ombudsman also found that during previous reviews carried out by the authority into Mr B's care between 2008 and 2011 he was never seen alone and that subsequently the council was at fault for not reviewing his needs properly.
The ombudsman said East Riding of Yorkshire Council had agreed to apologise to Mr B for its failure to properly review his needs and for the uncertainty caused by not starting safeguarding procedures following his complaint.
The council had also agreed to remind staff about its safeguarding procedures and about the importance of accurate and full recording, the ombudsman's report added.
Responding to the ombudsman's report, Mr B said it was "great to see, finally, that I've been believed".