Scunthorpe burst water pipe repairs completed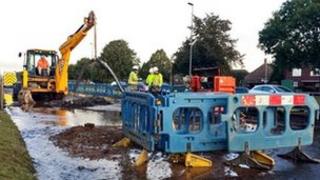 Work to repair a burst water main which flooded more than a dozen homes in Scunthorpe has been completed.
The properties on Ville Road were flooded when the pipe beneath the A18 Queensway road ruptured at about 00:30 BST on Thursday.
Anglian Water had initially said the repairs would be completed on Thursday.
The company apologised for the delay and said the work had been finished on Sunday and the westbound carriageway of the A18 had been reopened.