Hornsea brothers criticise Yorkshire Ambulance Service delay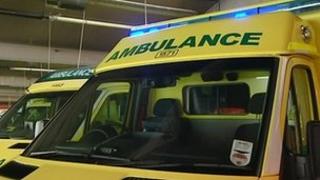 Two men who live yards from an ambulance station say they tried for 30 minutes to resuscitate their dying father before paramedics arrived.
Iain and Simon Poole, from Hornsea, said the delay by Yorkshire Ambulance Service (YAS) was "unacceptable".
Under government targets, 75% of the most serious cases should be reached within eight minutes. In Hornsea the average in 2013 is 61%.
YAS said the nearest available vehicle was sent but it would look at the case.
Raymond Poole collapsed at the house and was later pronounced dead. It is not yet clear what caused his death.
The property is less than 410m (450 yards) from Hornsea Ambulance Station.
Speaking to BBC Look North, Iain Poole said his mother called 999 between 22:00 and 22:15 BST on Wednesday when his father became unwell.
He said: "We have an ambulance station not two minutes away from my father's house.
"I do not see why we did not get an ambulance from Hornsea or somewhere local other than Hull."
'Lives at risk'
Simon Poole, who attempted cardiac massage on his father, added: "If they could have been there sooner I think he could still be here."
Graham Stuart, MP for Beverley and Holderness, said he was "appalled" with the service being provided in parts of his constituency.
He said: "People in rural Holderness deserve a high quality service otherwise lives are put at risk."
Figures show that in Aldborough and Sproatley YAS is reaching 53% of cases within eight minutes.
YAS records show the Pooles' 999 call was received at 22:15, a rapid response vehicle arrived at 22:30, and the nearest available ambulance, which was dispatched at 22:17, arrived at 22:43.
A spokesperson for the service said "providing a safe, responsive and high quality service to the people of Yorkshire" was their "main priority".