Beverley Minster venue for literature festival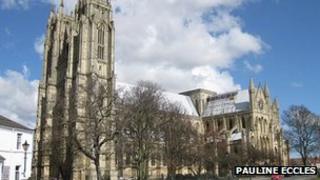 Beverley's 13th Century minster is to be a new venue for the East Yorkshire town's "most ambitious" literary festival, according to organisers.
The Reverend Jeremy Fletcher, vicar of the minster, is to take part in a discussion in the church with author Salley Vickers on Saturday.
The four-day festival is in its 11th year and features 40 events.
Dorcas Taylor, organiser of the council-run event, said: "Beverley is thriving as a centre for festivals."
She added: "The town is a lovely size to host such a diverse literature festival."
Ms Taylor said it was the first time the festival had worked with the minster and church authorities had been "really keen" to take part.
The festival runs until 13 October.