Hull's civilian Falkland ships exhibition launched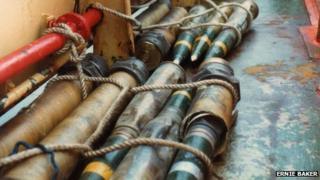 The story of the civilian ships and crews from Hull that took part in the Falklands War is being told in an exhibition.
A display at Hull Maritime Museum has memorabilia from the conflict, personal photographs and eye witness accounts.
The troop ship Norland and three ocean-going tugs, Irishman, Salvageman and Yorkshireman, sailed from the city.
Pete Bass, display organiser, said the aim was "to bring to light the work of the civilian crews that went down there".
Argentina invaded the Falkland Islands, which had been held by Britain for 150 years, in April 1982 leading to a short but bloody war.
In the two months of fighting that followed, 255 British and about 650 Argentine servicemen were killed, along with three Falklands civilians, before the Argentine forces surrendered.
Hit by missiles
Mr Bass, 66, is from the city and a retired Merchant Navy sailor. He sailed to the Falklands with the Royal Fleet Auxiliary in the tanker Appleleaf.
He said: "The Norland got publicity as a troop ship but I wanted to also tell the story of the tugs that did all the mopping-up."
The Hull ferry was involved in landing Royal Marines and other forces in San Carlos Water. The ship then came under attack from Argentine aircraft.
In one of the major incidents during the fighting 12 men died on the merchant ship Atlantic Conveyor when it hit was by missiles fired by a pair of Argentine jet fighters.
The Irishman took the damaged ship in tow but it eventually sank.
Five Hull trawlers were also used in the conflict as minesweepers but crewed by the Royal Navy, said Mr Bass.
Tom Goulder, assistant curator at the museum, said: "It is great to put Hull's more recent maritime history on show.
"Community displays like this can give us the chance to fill in gaps in our maritime story."
The display runs until the end of January 2014.