Humber Bridge repair work leads to traffic warning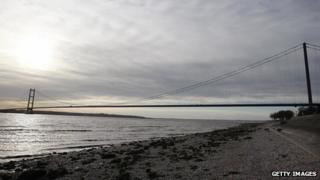 Drivers have been warned they face months of delays as the Humber Bridge undergoes the biggest repairs since it was opened in 1981.
Four solid steel A-frames connecting the deck of the bridge to the towers at either end are to be replaced as their bearings have deteriorated.
One lane will be closed in each direction from the end of October and the speed limit reduced to 30mph.
Hull and Humber Chamber of Commerce warned it could lead to "chaos".
The work is expected to take up to 40 weeks to complete.
'Worn over time'
Bridgemaster Peter Hill said they would do all they could to "minimise any impact" on traffic levels.
"At peak times we will have three approach lanes and three toll booths open in each direction," he said.
"We will only reduce this to two lanes, or possibly one, at the quietest times during nights and at weekends, and only when the works make this essential for safety."
Mr Hill said the A-frames, which each weigh five tonnes, had to be replaced as the bearings had "become worn over time".
The bearings allow the A-frames and the 1,410m main span of the bridge to move with the weather.
'Serious impact'
The project will be carried out alongside work to replace the Humber Bridge's toll system which began in July and has led to complaints about traffic delays.
Ian Kelly, chief executive of the chamber of commerce, said: "Sounds like chaos if [the Humber Bridge Board] is not careful."
David Hooper, the chamber's external affairs manager, said running the two projects in parallel would "cause a lot of problems".
"We're down to three toll booths as it is at the moment, if there are going to be lane closures as well it's going to have a serious impact on commuters and other road transport.
"There are a lot of hauliers using that route as well as public transport."