Job losses as Saltend Ineos chemicals facility closes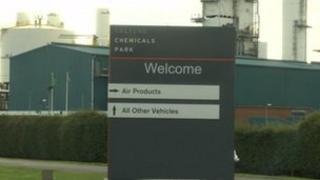 A global chemical manufacturer is to close part of its site in Hull with the loss of 18 jobs.
Ineos Enterprises said the closure of its Vinyl Acetate Monomer (VAM) facility at its site in Saltend had become "inevitable".
Cheap imports and a "hostile trading environment" were to blame for the closure, said Ineos.
The firm would do all it could to help those affected, said Ineos Enterprises chief executive Ashley Reed.
'Lost contracts'
Ineos bought the VAM facility at Saltend in 2008 and has spent over £40m trying to make it competitive in world markets, the company said.
However, the plant has been hit hard by low-cost imports from the US and Saudi Arabia, said Mr Reed.
"Regrettably, our cost per tonne remains significantly higher than the international competition and, as a consequence, we have lost a number of important contracts.
"This is a very sad day at Saltend. Everyone has worked hard to resolve this issue without success."
The firm's ethyl acetate plant at the same site will remain in production, said Ineos.