Hull Council urges takeaways urged to 'go healthy'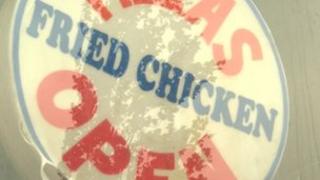 Takeaways in Hull have been urged to provide healthy options to their customers to help tackle obesity.
More than 28% of the city's adults are obese according to the latest figures - one of the highest levels in England.
The council has launched a campaign to get kebab shops, Chinese takeaways and fish and chip shops to sign up to its Healthier Options Award scheme.
To qualify they need to make changes such as using less salt and offering low fat alternatives on their menus.
They also need to rate highly on hygiene.
'Cost saving'
Emma Tindall, Hull City Council's principal environmental health officer, said she hoped takeaway owners would see the potential benefits to their business.
"We're opening their customer base up so that people who may not have takeaways because they feel they are not very healthy, would maybe come to their premises because they know that they're getting a healthier option," she said.
"And using less salt and monosodium glutamate (MSG) is actually a saving for them rather than costing them more."
Hull's acting director of public health, Andrew Taylor, said: "If [takeaways] buy better quality fat which is lower in cholesterol and harmful elements we can show them ways they can make that fat last longer, and therefore actually be cheaper for them."