Great crested newts delay RSPB Bempton Cliffs work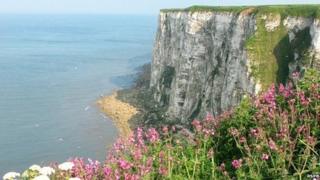 A £1m development at a seabird visitor centre in East Yorkshire is to be delayed by a year after a colony of protected newts was found.
About a dozen great crested newts have been discovered in a pond at Bempton Cliffs, near Flamborough Head.
The RSPB said the amphibians were protected under UK and EU law and would have to be moved before work can start.
Keith Clarkson, the site manager, said finding the colony gave the RSPB a chance to save a "wonderful creature".
'Improve breeding habitat'
Mr Clarkson said: "It's a fantastic situation to be in for a conservation organisation.
"It gives us a chance to help save a wonderful creature we didn't even know was here on the reserve."
He added: "We will have to improve the newts' breeding habitat in the pond, then get fences put in."
Mr Clarkson said the newts within the fenced-off area would be caught next year and then released in parts of the site away from the development work.
He said the cost of moving the newts would be "several thousand pounds" from the budget for the new visitor centre.
The RSPB said the site was home to more than 200,000 nesting birds including the UK's largest mainland gannet and kittiwake colonies, and 75% of England's razorbills and guillemots.
The site attracts about 75,000 people a year, according to the society.
The visitor centre, footpaths, toilets and car park are to be upgraded.
The RSPB said work would now begin in autumn 2014, with a completion date of April 2015.