Abraham Lincoln honoured with Hull plaque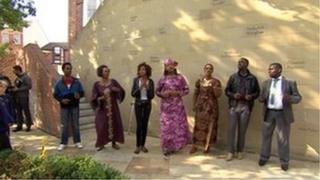 Abraham Lincoln has been commemorated on a memorial in Hull, joining the anti-slavery campaigner William Wilberforce who was born in the city.
The memorial wall at the University of Hull honours the world's human rights campaigners.
The honour marks the 150th anniversary of Lincoln's Emancipation Proclamation.
The name of the 16th president of the US joins those of Nelson Mandela, Rosa Parks and Dr Martin Luther King.
President Lincoln's Emancipation Proclamation was a speech during the American Civil War that paved the way for outlawing slavery in the US and conferring full citizenship rights on ex-slaves, said the university.
British empire
The plaque was unveiled by Monique Quesada, cultural attache at the US Embassy.
Professor Calie Pistorius, vice-chancellor of the University of Hull said: "We are proud to be honouring President Abraham Lincoln in this way."
William Wilberforce was a member of parliament for Hull and was influential in the abolition of the slave trade and eventually slavery itself in the British empire.
The Humanitarian Wall is at the Wilberforce Institute for the study of Slavery and Emancipation at the University of Hull.