Thorngumbald zebra crossing ends free school travel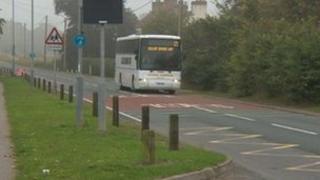 Pupils living in an East Yorkshire village are to lose their free bus travel after a new zebra crossing made the route to school shorter.
A new crossing built closer to South Holderness Technology College has cut the route for some pupils in Thorngumbald, meaning they are now under the limit for free transport.
Pupils will now have to pay £540 a year for a bus pass or walk to school.
Parents are angry but the council said it was following national guidelines.
In addition to the existing zebra crossing in the village, a new one was built this summer which is a few hundred yards closer to the college.
Walk 'unsafe'
It means that for some students, the safe walking route to the college has become shorter, bringing them under the three-mile limit for free travel.
At present, more than 100 pupils get free travel but the change is expected to affect about 30 students.
Alison Parker, who has two children affected by the new policy, said: "The walk that they are asking the children to do is unlit, it's unsafe, the path is really, really narrow.
"I think three miles is far too far to expect a child of 11 onwards to walk in the morning with a heavy bag and then do that walk again at night."
Paul Butler, from East Riding of Yorkshire Council, said that road safety officers had assessed the walk from the village to the school and the council believed it was safe.
He said the authority had spent more than £10m a year subsiding travel to schools.
"We need to look to see where we can make savings wherever possible," he said.
"Although we are charging parents for a bus pass, if they wish to use the buses that is still a subsidised bus pass.
"It is still far less than the cost to the council of providing the transport."