Hull announces partnership with Royal Philharmonic Orchestra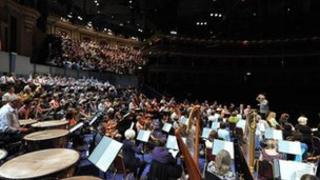 Hull has announced a five-year partnership with the Royal Philharmonic Orchestra as part of the city's bid to become UK City of Culture.
The deal will see the London-based orchestra playing concerts in the city and working with local groups on music projects.
Hull is one of four cities in the running to become the UK City of Culture in 2017.
The deadline for the bids is next week, with the winner announced in November.
The council's head of culture, councillor Terry Geraghty, described the partnership as the "icing on the cake" of Hull's City of Culture application.
Mr Geraghty said: "It gives that message that Hull is gong forward as far as culture is concerned and sport and we are now becoming one of the leading players in that field."
The council said the deal would cost £120,000 but said it hoped to recoup the money through ticket sales and sponsorship.