Hull's Clifton and Lambert nurseries run by primary schools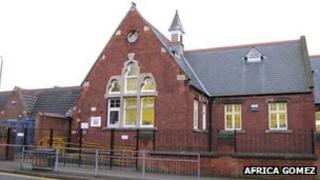 Two children's nurseries in Hull are to be run by nearby schools, council leaders have decided.
The city council had consulted parents and staff over the future of the Clifton and Lambert nursery schools and children's centres.
Funding for youngsters to the age of three will end, but care of three and four-year-olds will continue.
The Lambert site will be run by Sidmouth Primary School and the Clifton site by Clifton Primary School.
In May the council said the closure of some of the city's 21 children's centres had been considered.
The Friends of Lambert and Clifton Children's Centres, a group of parents set up to oppose the closures, has not yet commented on the decision.
Hull City Council said that education for three and four-year-old children would continue to be catered for at both sites, with the governance changing.
'Working closely'
The council said it would "work with the head teachers and governing bodies of the schools to explore the provision of private, voluntary and independent infant to three-year-old care, and holiday childcare provision".
In a statement, councillor Rosie Nicola, who is responsible for learning and skills on the council, said: "Throughout the consultation parents and carers told us how much they valued the provision at both of the Clifton and Lambert sites, and also how they viewed both sites as valued community assets.
"I'm pleased that we have been able to develop proposals that will allow the continuation of quality early years education and children's centre services at both sites by working closely with two of the local primary schools."
In February, the city council agreed closures of nursery schools and children's centres as part of a raft of measures, including a 1.95% rise in council tax and the cutting of 600 council jobs.