Grimsby bus station transformation revealed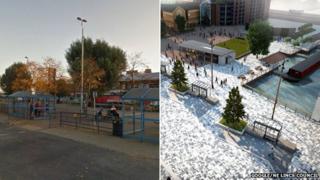 Plans have been submitted for the redevelopment of Grimsby's bus station, as part of a £6m transformation of the town's transport system.
A "super-stop" will be built for bus passengers, including a cafe, toilet facilities and real-time information.
There will also be a landscaped public open space behind the stop.
But North East Lincolnshire Council said this would be temporary as there were still long-term plans to extend the Freshney Place shopping centre.
The development of Riverhead Square is part of a wider project that has received £4.3m funding from the government's Local Sustainable Transport Fund, with the remainder coming from the council and other organisations.
The project includes a cycle hub at the town's railway station, which opened this week, and a new pedestrian and cycle link between the station and town centre.