Tophill Low reserve's rare marsh harriers fly nest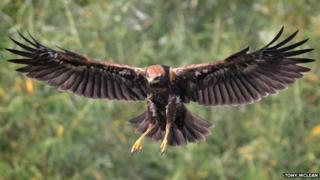 The first pair of rare marsh harrier chicks to hatch at an East Yorkshire nature reserve has finally flown the nest, wardens have revealed.
The chicks, at Tophill Low reserve near Driffield, survived attacks from natural predators in order to fledge.
With an estimated 360 breeding pairs of marsh harriers in the UK, the birds are on the RSPB's "Amber List" of species at risk of extinction.
Site warden Richard Hampshire said staff were "delighted and relieved".
Heron attack
Marsh harriers almost died out in the 1960s and are now mainly found in eastern and south-east England.
Mr Hampshire said Tophill Low staff were surprised to see a pair of marsh harriers nesting in front of a hide earlier this year, as the birds normally nest on the ground among oilseed rape or wheat.
News of their arrival was kept quiet until it was clear the chicks had hatched in July.
"The parents fought off an attack from a grey heron when the chicks were just two weeks old, so we are delighted and relieved the chicks have been able to fledge," said Mr Hampshire.
Wardens and bird enthusiasts kept track of the marsh harriers' diet during their stay as the species is known to have a taste for game birds such as pheasants and partridges.
"Game was just 1% of their observed diet, leading us to think this family at least isn't having a major impact on local game populations," said Mr Hampshire.
The marsh harriers' diet instead mainly consisted of coot, moorhen and rabbit, with frogs, rats, ducklings and water voles among other favourite treats, he added.