Thousands sign petition to save Hull swimming pool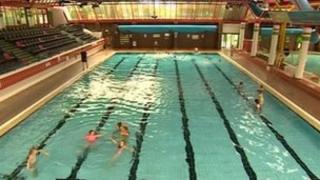 Protesters campaigning against the closure of a swimming pool in Hull have gathered more than 6,000 signatures on two petitions.
Hull City Council plans to shut the pool at Ennerdale Leisure Centre as it tries to save £80m by 2015 following a reduction in its government grant.
Opponents claim the pool is the only one in the city capable of staging competitive events.
The council is holding a consultation on the closure.
One of the petitions has been organised by the Kingston Upon Hull Swimming Club which is based at the pool.
'Shocked and astounded'
On its website the club said the closure would be a "disastrous event" and "it would also directly hinder the ability for the club to fulfil their weekly training sessions".
Another petition was organised by the local Lib Dem ward councillor Mike Ross, who said people were "shocked and astounded at the idea the pool would close".
He said: "These facilities allow the city to have competitions and galas - and they are well used for that.
"If we were to see those lost it would be would be a real impact for swimming in this city."
Hull City Council said the closure would save £220,000 and would ensure that four other pools in the city would remain open.
The two petitions will be debated at a council meeting later.