Cleethorpes bigamist caught due to Facebook photos is jailed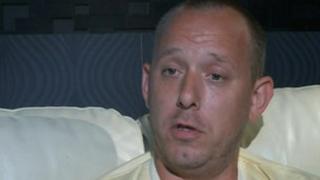 A bigamist whose deception was uncovered when his first wife found photographs of his second wedding on Facebook has been jailed.
Brian Frain, 36, from Cleethorpes, failed to declare he was still married to Anne-Marie Sim when he tied the knot with Margaret Louise Meredith in 2009.
Ms Sim alerted officials after she saw the pictures online while trying to trace him to start divorce proceedings.
Frain was jailed for three months after being convicted of bigamy.
Manchester Minshull Street Crown Court heard Ms Sim recognised the second ceremony had taken place at Dukinfield Register Office in Manchester - the same venue where she had married Frain 10 years previously.
Deceived the state
When she contacted the registrar, it was confirmed that Frain had not stated that he was still married.
Ms Meredith was not aware he was already married, the court heard.
Jailing Frain, Judge Maurice Greene said: "The seriousness of the matter is the distress you caused in the second marriage by giving a status to which she was not entitled because you lied to her.
"And you also lied to officers of the state. When asked to fill in a form you told a lie to the registrar and you said you had not been married before and were not married, which was not true."
When he was arrested Frain confirmed he had married both women.
Rachel Faux, prosecuting, said: "He said due to the amount of time that had passed he assumed he was no longer married to her [Ms Sim]"
Frain, who had twins with Ms Meredith before the couple separated, was convicted of bigamy in August.
Ms Meredith gave evidence to Tameside Magistrates' Court that she was not aware of his first marriage, despite Frain's claims she knew of his past life.
The court heard Frain has previous convictions for dishonesty, including benefit fraud, and also violence.