Village shop opens at Full Sutton maximum security prison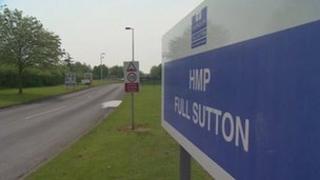 A village shop has opened in a maximum security prison housing some of the country's most dangerous criminals.
HMP Full Sutton near York is home to murderer Dale Cregan, serial killer Dennis Nilsen, and last month a prison officer was taken hostage there.
But that did not put off the local parish council when it saw an opportunity to give the East Yorkshire village a place to buy bread and milk.
The volunteer-run shop is in the visitor centre outside the main gates.
Prison-made bread
Paul Middleton, chairman of Full Sutton and Skirpenbeck Parish Council, said there had not been a shop in the village for hundreds of years.
"The prison isn't going to go anywhere, so we may as well try to use it to help the village," he said.
"When you're up there you wouldn't know there were 600 dangerous criminals inside, it's very peaceful, and the visitors who'll be in the visitor centre are just normal people."
And Mr Middleton said they would be making use of the prison's resources.
"The prisoners make bread, old fashioned loaves without any additives, and we're going to sell that in the shop, and they also make recycled barbecue briquettes which we're going to sell.
"People in the village are pleased there's going to be a shop.
"I think some have reservations and say because it's in the prison they will never go. It'll take time but we want to build those bridges."
The initial costs were funded by Mr Middleton and others at the parish council, with profits going back into the running of the shop.