'Loud bangs' halt Hull driving tests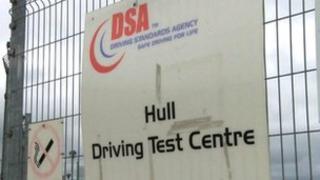 Driving tests are being suspended at a test centre because of loud bangs at a nearby car recycling plant.
The Driving Standards Agency (DSA) said that from 23 September, students would have to use other sites due to noise at the Lord and Midgley plant on Reservoir Road, Hull.
The DSA said it had to safeguard staff, instructors and candidates.
Operators Lord and Midgley said the plant was safe and they were installing additional machines to reduce noise.
A DSA spokeswoman said: "We are temporarily moving tests from Hull driving test centre following possible health and safety issues involving noise and fumes from the nearby car recycling plant.
"From 23 September, tests will be moved to neighbouring centres including the large goods vehicle test centre in Beverley.
"We will be writing to candidates who already have tests booked at Hull after 23 September to let them know that their test is moving.
"We will try to ensure that the date and time of tests stays the same.
"We are working with the Health and Safety Executive and the Environment Agency to ensure that testing at Hull can resume as soon as possible.
"We are very sorry for any inconvenience, but the safety of candidates and staff is our top priority."
Bike tests 'concern'
The Health and Safety Executive said it was aware of "issues" at the plant and was carrying out an investigation.
One driving school which uses the test centre said the temporary closure was affecting candidates.
Ideal School of Motoring, based in Midland Street, Hull, said bike tests were a particular concern.
She said: "The car driving test candidates may have to go to Beverley, but for the off-road module of the biker tests candidates will have to travel to Scunthorpe."
Antony Whittaker, manager of the Lord and Midgley firm, part of the Morley Waste Traders, Yorkshire Scrap Metal Processors group, said they had been running the plant since 1998 and had invested £40m in the business.
He said: "We invited the HSE on to the site and look at our process, we even asked them to advise us on best working practices.
"To eliminate the [noise] we've ordered a new piece of plant costing £1.4m which will be ready in January next year.
"We've always done everything to ensure everybody is safe and sound".