Luke Parry from Eastrington begins world rickshaw trip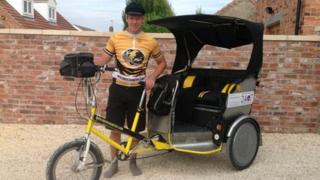 A man has set off on a journey around the world on a bicycle rickshaw.
Luke Parry, 22, from Eastrington, East Yorkshire, said he wanted to explore the world and meet as many people as possible by giving them lifts.
He set off from his former school, Howden, earlier and plans to head for London before travelling through Europe, Asia and America.
Mr Parry said he expected the 16,000-mile (26,000 km) journey to take about 18 months.
'Not allowed to charge'
"Being able to explore the world and meet as many people as I can is what it's all about," he said.
"I can take passengers and meet as many people as I can, and hopefully I can learn a bit more about their lives.
"I'm not allowed to charge people, because you need visas for that, but if they want to offer me something to eat or somewhere to stay, that's great."
Mr Parry, who graduated this year from the University of Warwick with a first-class degree in Mechanical Engineering, has packed his belongings into a small space under the passenger seat of the rickshaw.
The trip has been part-funded by the university's Lord Rootes Memorial Fund, which supports "exciting and inventive projects", as well as contributions from his parents and sponsors.