Hull City of Culture bid win would be 'transformational'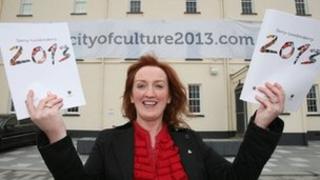 Hull's bid to be named UK City of Culture 2017 could transform its fortunes if it is successful, the winner of this year's bid has said.
Hull is one of four cities shortlisted for the title along with Swansea Bay, Dundee and Leicester.
Shona McCarthy, who leads the company behind Londonderry's successful 2013 bid, said a win for Hull would put it "on the map".
The winning city is expected to be announced in November.
Hull's £11m bid includes plans for 1,500 events throughout the year, a literacy programme and 25 festivals.
'Cultural vibrancy'
The city's programme would include a festival called Looking Up, highlighting a different building in Hull every week in 2017, and an opportunity for residents to display the city's art collection in their front windows.
Speaking at a breakfast meeting of Hull and East Yorkshire business people, Ms McCarthy said a successful bid by Hull could have a big impact.
"From Derry's experience, I can tell you the potential for Hull is for it to be truly transformational.
"It's an opportunity to put Hull on the map as a place of cultural vibrancy and to completely galvanise its citizens."
Ms McCarthy said Derry's £16m cultural programme had meant a five-fold economic return for the city.
It had also seen a change in how people saw their own city, she added.
The UK City of Culture initiative was started following Liverpool's success as European Capital of Culture in 2008, and is run by the Department for Culture, Media and Sport.