Hull Central Dry Dock amphitheatre plan approved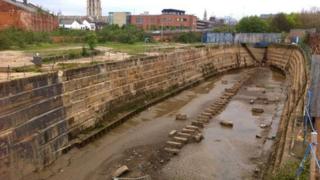 Plans for a new open-air entertainment venue in Hull's abandoned Central Dry Dock have been approved by the council.
The dock on the west bank of the River Hull was built in 1843 and is Grade II-listed. It has been disused since 1992.
Watergate Developments Ltd wants to install terraced seating in the dock to create a sunken amphitheatre while preserving its historic character.
The plan is part of the wider redevelopment of the area.
The dock was the largest dry dock in Hull and is 345ft (105m) long, with an entrance width of 51ft (16m).
Steel seating would be put above the dock and a pedestrian bridge and new flood wall would be constructed.
The plans also include the demolition of existing buildings on the site to create a new public square, and office buildings to house the planned Centre for Digital Innovation.