Hull Welly Club attack: Victim calls for prison sentence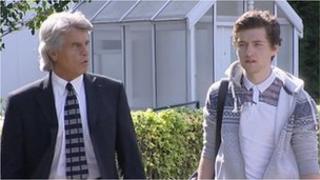 The father of a man who was partially blinded in a nightclub attack has made an official complaint about prosecutors after the attacker was spared jail.
Alex Francis, 19, was assaulted at Hull's Welly Club last August.
Callum Derbyshire, 23, of Ardmore Close, Hull, received a suspended sentence for unlawful wounding.
The Crown Prosecution Service is investigating after Alf Francis complained his son's attacker should have faced a more serious charge.
Derbyshire was sentenced at Hull Crown Court on 6 August after a trial.
His two-year sentence was suspended and he was ordered to pay £7,000 in compensation.
'Hard to take'
The Francis family want him to be retried under the more serious charge of causing grievous bodily harm with intent.
Alf Francis said: "I want the level of crime to be reviewed because it was grievous bodily harm with intent because the boy intended harming Alex.
"I want this boy to be put in prison. I just want justice and closure for Alex because I know he needs it. It's hard to take."
Alex Francis said: "There's nothing I can really gain from it that I value as much as getting my eyesight back.
"I just want justice. He's done all this damage that I am going to be left with for the rest of my life."
In a statement the Crown Prosecution Service said: "We have received a formal complaint and are looking into the matters he raised.
"We will contact Mr Francis with our findings by 13 September."