Final phase of Sewerby Hall restoration work starts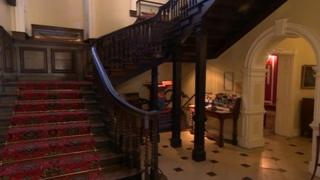 The final stage of a multimillion-pound restoration project at an East Yorkshire stately home has started.
The first phase of the £2.6m scheme at Sewerby Hall, near Bridlington, was completed earlier this year.
The interior of the 18th century house will be restored to how it would have appeared in the early 20th century.
The scheme has been paid for by a Heritage Lottery Fund grant and the East Riding of Yorkshire Council, which owns the property.
The estate attracts about 150,000 paying visitors each year according to the Conservative-run council which is hoping the restoration will boost that number and make it a year-round attraction.
Richard Burton, cabinet member for culture, said: "The hall is being restored back to how it was in the 1930s when it was last lived in. It will really show it off as a stately home rather than a council attraction.
"Coastal resorts traditionally have been summer resorts and close down for the winter. Restoring the hall is part of a plan to support tourism for all 52 weeks of the year."
The house was originally built between 1714 and 1720 for the Greame family who lived at Sewerby until the house was sold in 1934.
The gardens and zoo on the fifty acre estate will remain open during the work which is due to be completed by July 2014.