Hull apartments plan 'threat' to Avenues conservation area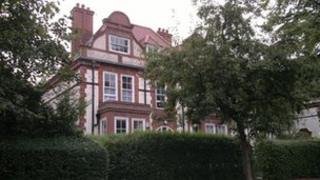 Plans to build two apartment blocks behind a Grade II listed house in a conservation area in Hull have been opposed.
The Avenues Residents' Association said the proposals for Salisbury Street would harm the character of the area, which features listed properties dating back to the 19th Century.
A planning application was submitted by developer Bankway Properties in June.
Hull City Council said the application was "currently being assessed".
The Grade II listed property on Salisbury Street is one of six in the Avenues area designed in the 19th Century by architect George Gilbert Scott Jr, son of well-known architect Sir George Gilbert Scott.
Residents have sent letters to the council opposing the proposed development, which includes a total of eight apartments and parking spaces for 16 vehicles.
'Grand and extraordinary'
Stephanie Wilson, chairman of the Avenues Residents' Association, said the plan was a "threat to the area" and that she had started a petition against it.
"This property is one of six remaining examples of George Gilbert Scott [Jr]'s [residential] work in the whole of the country," she said.
"These houses are rather grand and extraordinary and need their setting."
Mrs Wilson said the proposed development would "diminish the heritage and view" of the listed property.
"We live in a place that is worth preserving in its historic detail and this will neither preserve nor enhance the conservation area," she said.
A report by a chartered town planner stated the proposals would "not result in material harm to the setting of the listed buildings".