Dead soldier Gregg Stone's sister denies crash death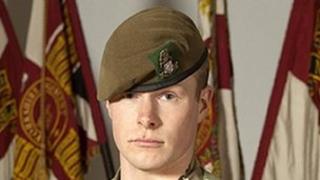 The sister of a soldier killed in Afghanistan has denied causing her older sibling's death in a car crash.
At Bridlington Magistrates Court, Rosie-Ann Stone pleaded not guilty to causing death by careless driving.
Her sister Jennie, 28, died in February when her car hit a tree in Fraisthorpe, East Yorkshire. Rosie-Ann, 20, was driving a different car on the same road at the time.
The crash happened months after Gregg Stone, 20, died in Helmand province.
Pte Stone, 20, of the 3rd Battalion, The Yorkshire Regiment, was shot while taking part in a mission to rescue an Afghan policeman in June 2012.
Miss Stone, of Scholars Way, Bridlington, was bailed to appear before Hull Crown Court on 5 September.