Council in Humberston Fitties chalet park lease talks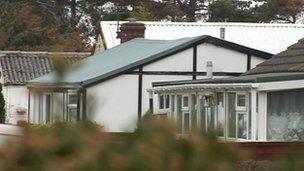 A council is expected to begin "informal discussions" about leasing out a chalet park at the centre of a dispute over occupancy periods.
A new report recommends North East Lincolnshire Council starts talks with Bourne Leisure Group over the Humberston Fitties, near Cleethorpes.
The council said leasing the park would help towards meeting cuts of £58m.
The report recommends the cabinet "approve the disposal through negotiation by way of a long lease to Bourne Leisure" of the Fitties, and the adjoining Humber Mouth Yacht club and car park.
It says continued ownership "does not represent core business of the council" and leasing the site will "remove on-going management issues and costs".
Paul Harwood, of the Fitties Owners Residents' Association Bungalows, said news of the proposed discussion had come out of the blue.
He said: "I was totally and utterly unaware of anything of this proposal and I find it both abhorrent and totally in keeping with the way the council has treated us so far."
In May, council leader Chris Shaw said he would cut off power and water to 300 chalets to stop residents staying on site.
The council wants the residences locked up in winter because they are classed as holiday homes.
Responding to Mr Harwood, Mr Shaw said that plans to set up a working group to explore disposing of the park were outlined in January and "widely publicised at the time".
If authority to speak to Bourne Leisure, which runs the neighbouring Thorpe Park Holiday Park, is granted the outcome of talks will be reported back to cabinet.
Related Internet Links
The BBC is not responsible for the content of external sites.