Hull MP calls for EDL march ban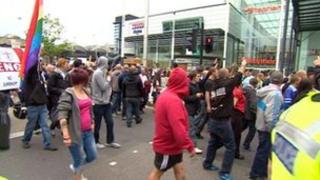 An MP has called for a ban on marches in Hull by the English Defence League (EDL) following arrests during a demonstration on Saturday.
Hull North MP Diana Johnson said allowing the EDL to march through the city "is not good for Hull".
Humberside Police said four people were arrested for offences including assault and threatening behaviour.
The EDL said it "would be wrong to remove our right to a peaceful demonstration".
Ms Johnson said many of the marchers came from outside of Hull.
"As a democracy we want people to be able to express their views," the Labour MP said.
"But clearly this is a group that seems to want to divide communities, engage in violent disorder and I think the police, if there was request in the future for the EDL to have a march in Hull, the police should very seriously consider applying to the home secretary to have a ban."
'Significant offence'
The Home Office said the police could ask a local council to apply to the home secretary to ban a march.
Humberside's Police and Crime Commissioner Matthew Grove said he "understood and sympathised" with calls for a ban but said people should be allowed to express their views.
"The EDL cause quite significant offence and distress to a number of people," said Mr Grove.
"But fundamentally I think the right to demonstrate is absolutely central to democracy in this country."
In a statement the EDL said: "We demonstrated in Hull on Saturday to protest recent racial abuse of our supporters at an earlier demonstration in the city in July.
"Everybody is allowed freedom of speech, it would be wrong to ban EDL marches."