Bridlington town crier David Hinde attempts 'world's loudest shout'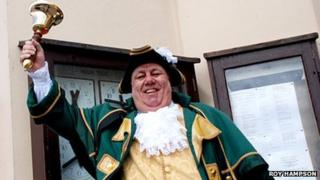 A town crier has failed in an attempt to break the world record for the loudest shout.
Bridlington's David Hinde wanted to exceed the 121.7-decibel record set by Annalisa Wray in Belfast in 1994.
But he only managed to reach 114.8 decibels at Sewerby Hall and Gardens.
Mr Hinde said he was "thrilled to bits" though, as it meant he had beaten the 112.8-decibel record for the loudest cry by any town crier, set by Gloucester's Alan Myatt in 1991.
"That record has stood for 22 years, which is a long long time for a record to stand.
"It's way above any other town crier," he said.
'Oyez, oyez, oyez'
Mr Hinde became Bridlington's first town crier for 111 years when he was given the role in February 2012.
He earlier said he was feeling confident, having reached 116 decibels during an unofficial practice run earlier this year.
The noise from a live rock concert is about 120 decibels and 130 decibels is near the point at which the listener begins to feel pain.
When Ms Wray, a teacher, set the record for the world's loudest shout she used just one word - "quiet".
Mr Hinde made his attempt using an "extensive cry" beginning with the words "oyez, oyez, oyez", the traditional cry used by town criers.