Brough motorists warned of Buccaneer aircraft move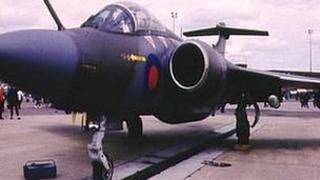 Motorists have been warned to keep cars off the road and street signs are being removed so a Cold War aircraft can be carried through an East Yorkshire town.
The Buccaneer jet aircraft has been at BAE Systems' site in Brough since it was withdrawn from service in 1993.
It has been donated to the Yorkshire Air Museum in Elvington as "it can no longer fit in Brough because the site is getting smaller", BAE Systems said.
The redundant aircraft is being transported to the museum on Sunday.
The Buccaneer strike aircraft was built in Brough by the Blackburn Aeroplane & Motor Company in the 1950s.
It served with the Royal Navy and later the Royal Air Force before retiring from service in 1993.
Jim Welsh, site director for BAE Systems, said: "We'd like to make sure the aircraft is being looked after and the Yorkshire Museum in Elvington have the experience to do it.
"It will also give the local population a chance to look at it as it will be on public display."
Residents have been asked not to park their cars on Skillings Lane, Elloughton Road, Main Street and Stockbridge Road between 06:00 and 08:00 BST on Sunday to allow the aircraft to be transported along these streets.