Network Rail apologise for bridge work noise upset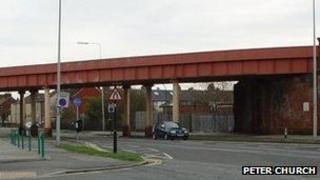 Network Rail has apologised for late night drilling work carried out on a bridge in Hull.
The company said contractors had been forced to carry out the work at Spring Bank West at night as no trains were running.
Residents had complained of "drilling noise and shouting workmen".
Network Rail said the noisiest period of the work when track was being lifted had now been completed and the rest of overnight work would be welding.
Rachel Lowe from the company said: "We will not be doing any more night time working apart from welding, which is much quieter."
She admitted that the workers' shouting was unacceptable.
"We are very sorry for the disturbance caused. We will speak to our contractors and make sure they are following our guidance," added Ms Lowe.