Northern Lincolnshire and Goole NHS trust boss gets £25k rise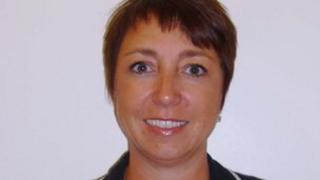 The chief executive of a hospital trust which was put in special measures after a review of high mortality rates has been given a 15% pay rise.
Karen Jackson, head of Northern Lincolnshire and Goole Hospitals NHS Foundation Trust, has had her salary increased from £145,000 to £170,000.
The trust said her salary had been "far below the market rate".
An NHS campaigner said the rise could not be justified in the wake of a review which criticised patient care.
Jacky Crawford, who is also a former nurse and lay member of the trust's board, said: "If somebody is doing a decent job, if they're improving services and people are happy with those services, then I would say it's justified.
"But I don't think in this case it's justified because I don't think they're doing their job."
'Reward for failure'
Andrew Allison, from the TaxPayers' Alliance - a group which campaigns against perceived government waste - said: "Mrs Jackson has been rewarded handsomely for failure.
"There's no other way to describe it."
Last month, Health Secretary Jeremy Hunt announced the trust, which serves a population of 358,000 people from three main sites in Grimsby, Goole and Scunthorpe, was one of 11 to be placed in special measures following the Keogh Review into high mortality rates.
Inspectors found that the trust had "inadequate staffing levels" and "concerns regarding hydration and feeding".
The trust said at the time it was launching a "back to basics" campaign to improve standards of patient care.
Dr James Whittingham, the trust's chairman, said it would have been a "grave mistake and false economy" not to have increased Mrs Jackson's salary.
He said: "It is important that we pay salaries which are commensurate with the job to attract and retain high calibre people.
"Karen Jackson's starting salary in 2010 was set below the agreed rate as it was her first chief executive post, and she declined a pay rise after her first year in the role.
"She is now receiving a salary that is roughly in line with the average for trusts of this size and type.
"It would be a grave mistake and false economy to pay so far below the market rate that executives leave their posts or are impossible to recruit."