Rugby League: Will Hull FC's Wembley hoodoo strike again?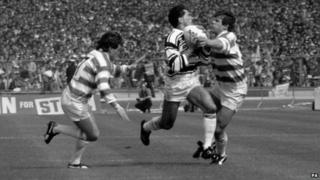 "Old Faithful... you'll never win at Wembley!"
It is a refrain sung by opposing fans that echoes around rugby league grounds when Hull FC are in action.
It is a corruption of the opening lines of Hull FC's club song - Old Faithful - and is aimed directly at the sore spot of an unwelcome Wembley hoodoo.
The club, playing Wigan at Wembley in the rugby league Challenge Cup final on Saturday, has yet to win in seven previous appearances at the national stadium - the finals of 1959, 1960, 1980, 1982, 1983, 1985 and 2008.
To add to Hull's misery one of those defeats was to neighbours and rivals Hull Kingston Rovers in the all-Hull cup final of 1980 - meaning their rivals have tasted Wembley success, and at their expense.
Hull FC has suffered heavy defeats, such as losing to Wakefield by 33 points in 1960, and also lost by just two points to Featherstone in 1983 despite being solid pre-match favourites.
Hull have lost twice to this year's opponents Wigan at Wembley, including running the great Wigan side of the 1980s close in the 1985 final, widely regarded as a rugby league classic, in front of about 97,000 spectators.
Since the final tie went to Wembley the club has twice won the Challenge Cup - just not at the stadium. In 1982 Hull FC beat Widnes in Leeds in a replay following a Wembley draw and in 2005 the team lifted the trophy in Cardiff while Wembley was being rebuilt.
But still not one single, precious, Wembley victory.
'Wonderful stories'
So is the club in the grip of a powerful Wembley hoodoo lasting more than 50 years?
Garry Schofield, who played for Hull FC in the 1985 final as a 19-year-old, said: "It wasn't mentioned but back in our day the mental and psychological side of the game wasn't important.
"I'm sure the unwanted record has been a huge talking point in the dressing room.
"This Hull team has the opportunity to create history, as simple as that."
"These sporting patterns make for wonderful stories", says Chris Anderson, co-author of the football book The Numbers Game.
"By and large the 'curse' is nonsense, in the statistical sense, historical results are not predictive of the result on the day.
"Over the time span there have been different athletes in the team, different coaches in charge and even Wembley stadium has changed."
According to Mr Anderson the woeful Wembley record is "simply a random set of data".
And yet, he believes there is one way the losing run could have a real effect on Hull FC's present team.
"It could become a self-fulfilling prophecy if the behaviour of current coaches and players is shaped by a bad record," Mr Anderson adds.
'It will go'
If the shoulders of the players, or even the team's fans, droop because the curse "is happening again" - then another defeat could be on the cards, he says.
Mr Anderson said the fans could have a part to play in counteracting the "hoodoo" with their committed support.
Karl Brooks, 41, has been watching the team since 1977 and will be part of an extended group of family and friends who will be at Saturday's final.
"The hoodoo is there to be broken, it will go one day," he said.
"Unfortunately my granddad never saw us win at Wembley but I'm taking my 10-year-old niece so she can be there on the day we win."
Fellow fan Joe Bennett, 24, said: "It is extremely frustrating to hear the song about our Wembley record.
"If we could put that behind us, it changes the rivalry with Hull KR and I'd love nothing more."
And Mr Bennett could be celebrating a Wembley win in an unusual place.
"I'd love to go to the cemetery sit by granddad's stone and raise a beer."
'Stay on top'
Dr Keith Earle, of the University of Hull, is a sports psychologist with 15 years of experience in rugby league and is sure about one thing with Hull FC's poor record.
"You can't ignore it", he said.
"Fans, family and the media will be mentioning it so the 'hoodoo' will be all over the place."
Dr Earle said the whole point of the coaching and backroom staff was to make sure the players "peak" at the right time for a final.
Some players may well need "what if?" strategies, to be used to re-focus if the team goes behind, said Dr Earle.
"Rugby league is a game of momentum changes and teams have to be both mentally and physically strong to take those chances," he said.
"And once on top, a team has got to stay on top.
"A winning team needs to have 17 players at their peak who need to be as 'spot on' as possible and who stay focused in the 'here and now'.
"You won't win a game by thinking of the finishing line. Players need to concentrate on the next thing they have to do."