Hull house damaged as car crashes into living room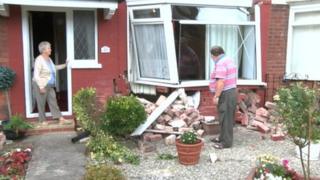 A house in Hull was extensively damaged when a car crashed into the living room of the property.
The driver lost control of the vehicle on Parkfield Drive just after 04:00 BST and hit the front bay window of Iris Baxter's house.
No-one was injured but the car had to be winched free by the fire service.
Humberside Police said it was investigating what had caused the driver to lose control. Mrs Baxter said she "couldn't believe it".
After leaving the road the vehicle had struck two stationary cars and a wall before coming to rest in the house.
Mrs Baxter was asleep in the bedroom above the sitting room when the car crashed into her home.
She said: "I was still asleep actually but I did hear a bang. I thought it was a lorry that had shed a load.
"I opened my front door and my next door neighbour said 'look at your bay Iris?' I was just amazed, I couldn't believe it."
The fire service said the collision had caused extensive damage and props had been used to shore up the front bay window of the house to make it safe.