Hospitals' car parking hike to pay for changes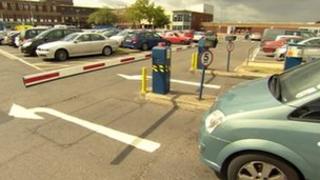 A planned increase in hospital parking charges in North and East Lincolnshire and East Yorkshire should pay for improved facilities, bosses have said.
Fees at Northern Lincolnshire and Goole Hospitals NHS Trust are to rise by 46% (£1.60) for a two-hour stay from next month.
The Royal College of Nursing said it would be the "most expensive anywhere in the south bank of the Humber".
The trust said it was creating 50 additional parking spaces in Grimsby.
It also said it would install new lighting and electronic availability signs, which would be updated in real-time, at all three of its hospitals in Scunthorpe, Grimsby and Goole, East Yorkshire.
The new fees range from £3.50 instead of £1.90 for two hours, £4.50 instead of £3 for four hours and £5 instead of £3.70 for more than four hours.
Disabled blue badge holders will be charged a maximum of £2.50 for the day.
Parking 'quite harsh'
Parking for cancer patients remains free of charge, the trust said.
Trac Peach, whose teenage son is an outpatient at Scunthorpe General Hospital, said he has to attend the hospital on a regular basis and the planned rise in parking charges was "quite harsh".
"The parking's not that great, there's lots of restrictions. So [the hike is] another strain on finances," she said.
Nigel Myhill, director of facilities at the trust, said: "Unfortunately to be able to improve the facilities we do need to off-set the costs by increasing the amount we charge people.
"The main use of the income generated by car parking charges is to pay for our car park and security service, along with the running costs like maintenance and utilities.
"We are seeing an increased security requirement which protects our staff, patients and visitors from violent and aggressive behaviour. Surplus income will be used directly for patient care across the organisation."