Grimsby flood alleviation work to start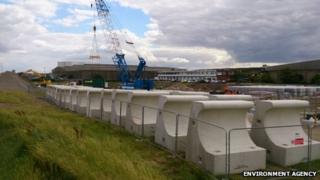 Work aimed at reducing the risk of flooding to thousands of properties near the Humber Estuary is about to begin as part of a two-year project.
The first phase of the £20m Grimsby flood alleviation scheme is due to start next week with the construction of a large concrete wave wall.
The wall, made from hundreds of pre-fabricated 20-tonne concrete blocks, will be built at Grimsby Docks.
Further phases of the scheme are expected to follow in 2014 and 2015.
The need for a flood defence scheme in Grimsby was identified as part of the Humber Flood Risk Management Strategy which was given the go-ahead by government in 2008.
Mike Dugher, from the Environment Agency, said: "Thousands of homes and businesses would be at significant risk of flooding should these defences fail."