Cleethorpes donkey attacks may force end of beach rides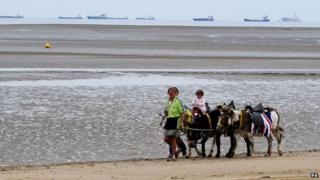 Attacks against donkeys may force one business owner to stop offering rides at Cleethorpes beach.
John Nuttall said his donkeys have been "kicked in the face, put in headlocks and hit with wood" while they are resting in a nearby country park field.
North East Lincolnshire Council said it was "absolutely disgusted" by the attacks.
Humberside Police confirmed two donkeys in Cleethorpes Country Park had been allegedly assaulted.
Mr Nuttall, whose family-owned business has been running for three generations, said a witness had reported two youths repeatedly kicking his two donkeys named Dudley and Banjo.
"A lady was walking her dog across the park, where the donkeys are, and she saw these two young lads kicking the donkeys in the face.
"The donkeys had put their heads through the fence thinking they were getting a treat, but instead they got a kicking.
"Donkeys don't hurt anybody. I don't know how anyone can do such a thing."
'Welfare comes first'
Humberside Police said officers had attended the scene but did not catch the alleged offenders.
It had appeared to be an isolated incident, the force added.
Mr Nuttall said he would continue offering donkey rides until the end of the season, and would assess the situation in September.
"If the attacks continue then we'll move them out [of Cleethorpes]," he said.
"It's not fair on the donkeys to put them through it. Their welfare comes first."
He also said he was "thinking of investing in CCTV cameras", which he would install at the park to monitor the animals.
Beverley Wade, who runs the Seaview Equestrian Centre, said "abuse against donkeys was getting worse" in Cleethorpes.
Hazel Chase, cabinet member for safer and stronger communities, said: "It absolutely disgusts me that any human being can carry out such attacks on defenceless animals.
"Any instances of cruelty to animals or reckless vandalism in Cleethorpes Country Park need to be reported to Humberside Police."