Hull East Park's pool closed after sickness outbreak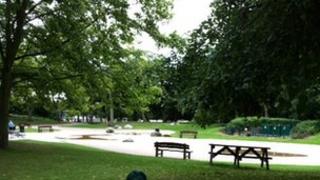 A paddling pool at a children's park in Hull has been temporarily closed after an outbreak of a sickness bug.
Hull City Council said 18 cases of the cryptosporidium infection were found last month. An investigation is being carried out by Public Health England and the authority.
Those who fell ill had recently visited the paddling pool at East Park, on Holderness Road, the council said.
Cryptosporidium can cause diarrhoea, stomach pain, vomiting and fever.
Andrew Taylor, acting director of public health at Hull City Council, said: "As a precautionary measure, the council has decided to temporarily close the paddling pool in the park for additional cleaning and maintenance work."
Dr Autilia Newton, from Public Health England in North Yorkshire and the Humber, said the source of the infection was not yet known.
She said: "Cryptosporidium is a parasite that causes an infection called cryptosporidiosis.
"Cryptosporidiosis is most common in children aged between one and five years, but it can affect anyone."
Dr Newton advised those affected to stay indoors until 48 hours after diarrhoea symptoms have ended.
She said people diagnosed with cryptosporidiosis should not swim for two weeks after their symptoms have stopped.
The council said it could not confirm when the pool would reopen.