'Answers needed' over East Riding Community Hospital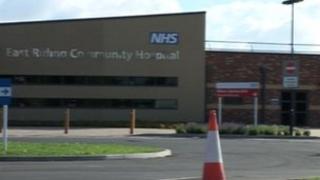 An NHS trust facing criticism from a health watchdog must explain why nurses at an East Yorkshire hospital were not fully trained, campaigners have said.
A Care Quality Commission (CQC) report in July found at least 65% of trained nurses at East Riding Community Hospital were "not fully competent".
Save Our NHS Hull and East Yorkshire said local residents "need answers".
A plan showing how better training would be achieved was now with the CQC, Humber NHS Foundation Trust said.
The action plan had already been drawn up before publication of the CQC report, but it had now been formally lodged with the health watchdog, the trust said.
'Serious incidents'
The £19m 30-bed hospital, on Swinemoor Lane in Beverley, opened in July 2012 and was designed to replace the ageing Westwood Hospital which has since closed.
The CQC report into standards at the hospital, which followed an unannounced visit in June, said many of the nurses there had not received appropriate training.
Six "serious untoward incidents" which put patient safety at risk were highlighted in the report, with a "serious error on the part of staff" in two of those incidents.
Although patients were satisfied with their treatment, there were "concerns patients were at risk of receiving unsafe care that affected their health and welfare", the report said.
Twelve beds at the hospital were temporarily closed following the CQC inspection.
'Under pressure'
Lyn Longbottom, from Save Our NHS Hull and East Yorkshire, described the CQC report as "damning".
"The community needs answers as to why the East Riding Community Hospital, a brand new facility... is under pressure," she said.
"Staff were never given access to the training needed to operate the hospital in the first place."
David Snowdon, Humber NHS Foundation Trust chief executive, said the action plan now being considered by the CQC included "enhanced" training for hospital staff.
The CQC was not expected to carry out another inspection at the hospital before October, Mr Snowdon said.