Ennerdale swimming pool closure plan angers coach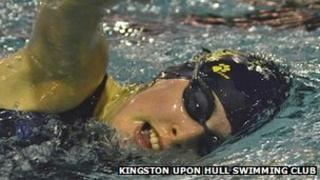 A plan to close a Hull swimming pool has angered the head coach of a city swimming club.
Hull City Council is proposing to close the pool at Ennerdale Leisure Centre, on Sutton Road, as part of a review into its leisure services.
Head coach Peter Richardson, from the Kingston Upon Hull Swimming Club, said he was "very frustrated" by the plans.
The council said it had to save £80m by 2015 because of a five-year reduction in central government funding.
Ennerdale is one of five pools in the city, but Mr Richardson said it is the only one fit for competitions.
'Award-winning club'
"It's the only 25m pool that has six lanes, 250 seats and can accommodate a vast number of swimmers, spectators, officials and has time-keeping facilities.
"We are a good club, we have 240 members and have won golds in the UK youth championships.
"If there are no [adequate] facilities, we are saying we don't care about the city's competitive swimmers and Hull's obesity problem."
"If you don't have good facilities in the city then you don't have the ability to raise great swimmers.
"I'm very frustrated," added Mr Richardson.
Under the proposals, the Springhead golf course is also earmarked for closure and the council is considering setting up a not-for-profit company to run the city's leisure services on its behalf.
A spokeswoman for the council said the proposals were yet to be discussed and would go out to public consultation, but could not give further details.