Yorkshire farms top rural crime costs table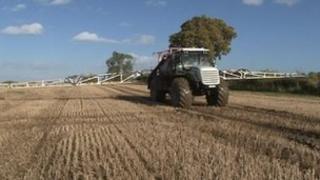 The cost of rural crime in Yorkshire is the highest in the UK, according to a insurance company.
Figures from NFU Mutual show that losses to theft in the region last year cost an estimated £3.4m.
The insurer said that rural crime across the UK fell by 19.7% in 2012, largely due to a reduction in the number of thefts of tractors and quad bikes.
But the report also said there had been an slight increase in livestock thefts.
The company, which insures more than 70% of farmers, said the rural crime rate was now at a five-year low, following four years of rises.
'Different approach'
Tim Price, from NFU Mutual, said the decline in the number of thefts was down to better security features on tractors and anti-crime initiatives by police forces, such as Farm Watch.
"The difficulty policing the countryside is the sheer size of it," said Mr Price.
"And the fact that farmers and other country businesses can't just return everything to a locked compound.
"You can't chain your sheep down and you can't always have your tractor back in the yard.
"So it does call for a different approach to security compared to urban areas."
One victim of crime is Jeanette Corkwell who lives in Gransmoor, near Driffield, East Yorkshire.
She claimed there have been a number of thefts in the village over the last few months, including a burglary at her home.
"They took the diesel and they also attempted to take the lead from our bay windows," she said.
"They also trashed my husband's car. They punctured every tyre and scratched all the paintwork, resulting in £2,500 worth of damage.
"It's just mindless violence."