CQC finds patient safety risk at Beverley hospital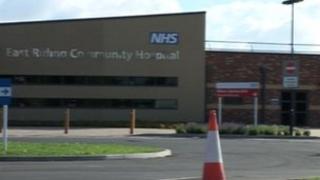 Six "serious untoward incidents" that put patient safety at risk have been highlighted following a hospital inspection by the health watchdog.
More than half the beds at East Riding Community Hospital were temporarily shut earlier this month after the visit by the Care Quality Commission (CQC).
A CQC report said there had been a "serious error on the part of staff" in two of the incidents.
Humber NHS Foundation Trust said it was committed to making improvements.
The hospital in Beverley opened last July and was built to replace the ageing 12-bed Westwood Hospital, which has since closed.
The facility, which serves the communities of Driffield, West Wolds, Beverley and Hornsea, includes a minor injuries unit and a GP out-of-hours service.
Inspectors found the trust was failing to meet national standards in the following areas; care and welfare of people who use services, supporting workers and assessing and monitoring the quality of service provision.
The report said although patients were satisfied with their treatment, there were "concerns patients were at risk of receiving unsafe care that affected their health and welfare".
Inspectors were informed of six incidents, occurring since the hospital opened, which had related to the lack of patient care and treatment.
The report said an investigation into one incident had shown "ward documentation had not been completed and the seriousness of the patient's deterioration had not been recognised".
Action plan submitted
It added: "...and so the patient had required emergency services to transfer them from an acute hospital for life saving treatment".
The inspection also found staff "had not received appropriate professional development".
The report said: "The matron and service manager told us that over 50% of ward-registered nurses had been assessed as having differing levels of competency issues in undertaking some of their roles as a trained nurse."
It added: "They had considered the safety of patients on the ward to have been in doubt and they considered this was potentially still the case."
The trust said it had already submitted an action plan detailing how the necessary improvements would be made.
Chief executive David Snowdon said it acknowledged the areas of concern highlighted by inspectors were "real and valid".
He added: "However, we can confirm the trust was aware of these areas of concern but had been proactively addressing them and putting mitigating actions in place prior to the visit."