East Riding Community Hospital shuts beds after inspection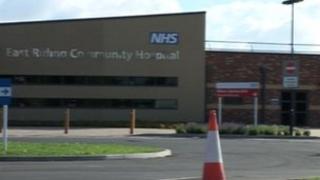 A hospital that opened less than a year ago has closed more than half of its beds following an inspection by the Care Quality Commission (CQC).
East Riding Community Hospital has reduced beds temporarily from 30 to 12.
The CQC carried out an inspection in June and "identified some areas of non-compliance with national standards".
Humber NHS Foundation Trust said only patients that met "the admission criteria for transfer from the acute hospital would be admitted".
The hospital in Beverley opened last July and was built to replace the ageing 12-bed Westwood Hospital, which has since closed.
The facility, which serves the communities of Driffield, West Wolds, Beverley and Hornsea, includes a minor injuries unit and a GP out-of-hours service.
In a statement the trust said it put "the safety of patients in its care and the confidence of their carers at the heart of every decision we take and therefore we have taken the decision to temporarily reduce the number of beds available".
A spokesperson said there were "sufficient beds across community hospitals" in East Yorkshire to "accommodate patients in need of admission".
The CQC said a report of the inspection would be published imminently.
A spokesperson for the watchdog added: "We will be returning unannounced to East Riding Community Hospital to check that the required improvements have been made."