Hull gull attacks victim: 'Most frightening experience'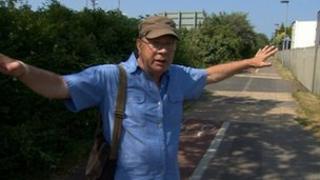 A man who says he has been attacked by seagulls three times and forced to run off in panic has called for the birds' nests to be removed.
Keith Lee said he had been repeatedly targeted by a flock of the gulls whilst walking on a cycle path in Hull.
He described the attacks near Hedon Road in east Hull as the most frightening experiences of his life.
An ornithologist said the birds were a protected species defending their nests.
Mr Lee said the attacks had made him scared to use the pathway, which passes by an industrial estate.
"It started off actually with one," he said.
"The next minute they all came from the docks on Hedon Road.
"My legs turned to jelly. They were all making the same noise.
"So in my panic I ran across Hedon Road and they followed me for about a mile down the road.
"The lorries were passing and I think that's what saved me."
In the second attack Mr Lee said he deterred the birds by flapping his arms.
He said that owners of the buildings on the industrial estate should remove the nests from their roofs.
'Serious decline'
Dr Viola Ross-Smith from the British Trust for Ornithology said gull numbers were increasing in cities due to easy access to food and a lack of predators.
However, she said that she did not support calls to cull their numbers.
"If it was a herring gull, which is most likely given the region, then these gulls are actually red listed.
"They're in decline, serious decline. They're a protected species.
"They might be doing well in cities but they are not doing well elsewhere."