Hull Olympic boxer Luke Campbell trains in public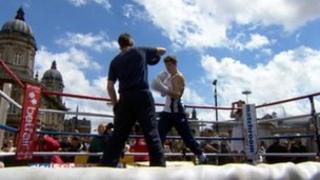 Olympic gold medal winning boxer Luke Campbell has held a public training session in Hull city centre.
The 25-year-old is preparing for his debut as a professional in a fight at Hull's Craven Park stadium in July.
Campbell has not boxed since winning gold in the bantamweight category in London last summer.
The Hull-born boxer, who was appointed MBE in the Queen's New Year Honours list, sparred in a ring set-up in the city's Queen Victoria Square.
Campbell is the most decorated amateur boxer in British history, with Olympic and European titles and a world silver.
He said the support from his Hull supporters was unbelievable.
"It makes me work even harder in the gym because I want to put a great performance on to entertain all the fans," he said.
Campbell said he was adapting to the challenge of professional fighting, which includes more rounds, smaller gloves and no protective head gear.
"I'm learning all the time," he said.
"I took myself to New York a few weeks ago. I was doing sparing with pros out there, well established pros.
"Moving around and getting some great rounds under my belt."