East Riding of Yorkshire Council faces Ofsted inspection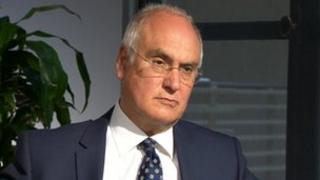 The head of education watchdog Ofsted has warned East Riding of Yorkshire Council it could face an inspection over standards at some of its schools.
A recent report found too many of East Riding of Yorkshire Council schools were underperforming.
Chief inspector Sir Michael Wilshaw, said Ofsted had carried out "focused inspections" on 15 schools.
East Riding of Yorkshire Council said it was awaiting the outcome of the inspections.
The additional inspections were ordered after a report by Ofsted in May found 35% of the county's schools were classed as "requiring improvement" or "inadequate", compared to a national average of 23%.
Sir Michael said: "We've gone back into schools that we perceive not to be good enough.
"We've been asking questions about the support and challenge given to those schools by the local authorities.
"If the evidence suggests that those schools aren't receiving the support we would expect, we will inspect the local authority."
'No fair deal'
Sir Michael's comments came in the wake of an Ofsted report that suggested many of the poor children being left behind in schools now are in suburbs, market towns and seaside resorts rather than big cities.
Beverley and Holderness Conservative MP Graham Stuart said that he had talked to East Riding council leaders and that the authority was taking the issue "seriously".
Mr Stuart, who is chairman of the House of Commons education select committee, said the government needed to introduce a fairer funding formula for schools.
"Money is not the be all and end all of outcomes in education, but it plays an important part," he said.
"At the moment, as the third lowest funded area in the country, the East Riding is not getting a fair deal."