Beverley North Bar traders launch Georgian Quarter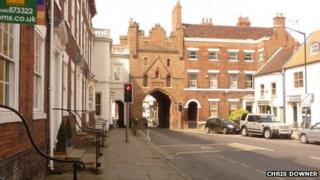 More than 50 independent traders around Beverley's medieval gate have launched a new association to attract visitors.
Based around the North Bar, the market town's only surviving gate, the Georgian Quarter features the streets North Bar Within and North Bar Without.
The scheme has received £10,000 from Our Town First, a government fund set up in response to the Portas Review.
Barry Gibson, a gift shop owner, said it was a "hidden gem" in the "most historic and beautiful part of town".
Mr Gibson said his shop, on the street inside the gate, dated from around 1730 and was a former coaching inn before it was converted in the mid 1800s.
Beverley's North Bar is more than 600 years old and was linked to others around the town by a ditch.
It was originally designed to control commerce and trade.
The newly-renovated Coronation Gardens has also reopened. The gardens were established in 1953 to commemorate the coronation of Queen Elizabeth II.
The area's shops, pubs, cafes and restaurants first began to discuss the scheme in January 2012.