Selby rail swing bridge repairs delayed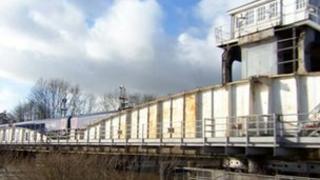 Essential repairs to an ageing North Yorkshire railway swing bridge have been rescheduled after a major landslide caused the work to be called off.
Work on the Selby swing bridge was to have taken place during the summer.
A landslip at Hatfield, South Yorkshire caused the closure of the line to Scunthorpe in North Lincolnshire.
The repairs on the swing bridge, which was built in 1889, will now take place next year.
It was originally planned to use the Hatfield line to re-route trains to Hull while the work was carried out on the Selby bridge.
Network Rail said as well as refurbishing the Selby swing bridge it planned to carry out repairs on a number of other bridges and level crossings on the Hull route at the same time.
The landslip happened in February when the collapse of about one million cubic metres of mining spoil at Hatfield Colliery caused the line to buckle.
Network Rail said it now hoped the Hatfield line would reopen next month.