Humber Rescue saves crew of sinking cabin cruiser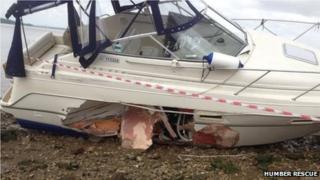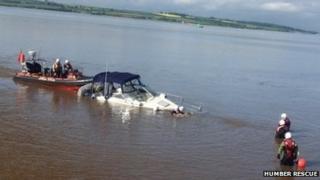 A man and a woman have been rescued from a sinking cabin cruiser in the River Humber.
The 27ft (8m) boat hit a buoy between Hull Marina and the Humber Bridge.
Humber Rescue said it responded to a distress call from the Sea Eagle at 06:47 BST and found it had a "significant hole" in the hull.
The crew were taken to hospital with "unknown injuries" along with a member of the lifeboat crew who sustained a shoulder injury.
Ian Bennett, coxswain at Humber Rescue, said: "This was certainly a lifesaving job for us, there was no doubt that we had to get on scene as a matter of urgency for those involved."